…humongous? This is the word we probably need here. The impact of new technology on the fast food and restaurant industries has been hu-mon-gous! The internet and mobile phones have completely reshaped how we order, make and consume food.
This manifests in so many ways. Instead of thumbing paper menus in restaurants, customers use their phones to order for delivery. Instead of soliciting advice from their friends, people study reviews left by total strangers online.
It's easy to get overwhelmed with all these changes. Software is eating the world, so what's going to be left of the restaurant and fast food industries in the end? This is the question every foodservice professional asks themselves.
Here is my (deeply personal) take on some of the most important developments in the quick service market.
Technology propels a new old market: delivery
A confession: I've never ordered anything on Deliveroo, UberEats or any similar platform. And honestly, I can't wrap my head around why people would wanna do that.
For me, lunch at a restaurant or even a burger joint is a good excuse to go out and see the world beyong the pixels of my laptop's screen. Staying at home, eating from plastic containers and paying more for that? Thanks… but no thanks.
Yet I know that for the rest of humanity delivery is a new god. Some folks worship it. Others want to fight it. It's going to be tough: food delivery is a tech-enabled business and building your own competing IT solutions proves to be costly. (We at Dodo have 120 developers on board—and that's still not enough!)
Delivery is also a business of scale. You need the numbers to make your operations work. So it might feel like we're doomed and the future world belongs to giant tech companies. The global food delivery market is expected to exceed $200 billion by 2024.
Yet I don't think this dispute is settled. Aggregators don't pay restaurants enough, they don't pay their drivers enough, and still they remain unprofitable. So I'd say we'll have to see how it pans out.
Technology lowers the barriers for launching a restaurant business
The rise of delivery, controversial as it may be, has also enabled the dark/ghost kitchen and virtual restaurant business model—another hotly disputed novelty in the fast food market.
The premise is simple: if people are ordering delivery via apps on their smartphones, why pay for pricey premises downtown and invest in the design? Instead, you can rent an ugly corner in an industrial building and sell cheaper meals solely through delivery platforms.
Startups such as CloudKitchens, Karma Kitchen, Kitchen United, Taster and Keatz, are all gunning for this market. Deliveroo has launched its own dark kitchen project. Even McDonald's has joined the fray.
Fyodor Ovchiniinkov, the Dodo Pizza founder, is of the opinion that this model isn't sustainable ("the dark kitchen craze in nonsense") because it relies too much on the platforms. And I tend to agree with him: making a big business out of a virtual restaurant might be near to impossible.
Still, millions of dollars are being poured into dark kitchen projects, and this allows people with almost no capital to start a business in this field. The lower CAPEX for launching a virtual brand in comparison to traditional restaurants will probably be driving this market in the near future.
If a dark kitchen is your only option to fulfil your dream of becoming a restaurateur and it doesn't turn out to be that "sustainable" in the long run, who cares?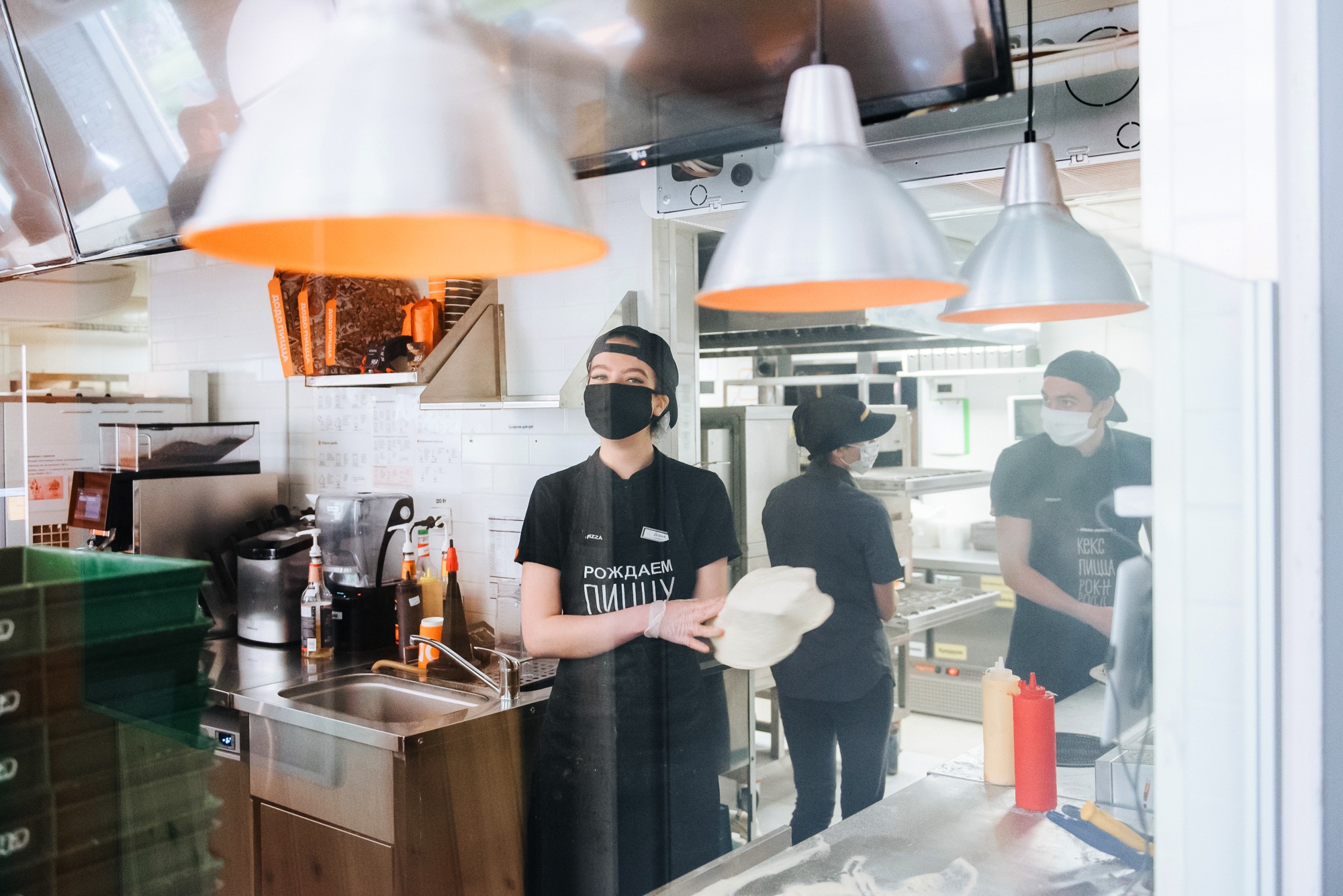 We at Dodo have hundreds of kitchens working for delivery, and non of them are "dark"
Technology changes how people place orders in-store
Technology has changed the fast food industry in lots of ways, but only a handful of them are obvious to customers. The arrival of kiosks for self-ordering? This one should definitely make the list.
Thanks to kiosks installed in many quick service restaurants, you can now order a burger and french fries without saying a word ("merci!" when picking up your meal would be nice, though). No waiting in line. Plenty of time to study the deals. For the business, kiosks are handy as well, since they boost efficiency.
But is this a solution for the future? Some brands believe that a smartphone in your pocket will be the best "kiosk" ever. By using a brand's app you can order in advance when approaching the location and have your meal ready by the time you arrive. The app will also remember your payment data, order history and preferences.
Chick-fil‑A introduced a mobile dine-in ordering solution in 2019. This much-respected American brand isn't the only one leveraging its app to enhance the dine-in experience. We at Dodo are also opting for apps instead of kiosks for dine-in.
Technology makes us talk to robots
I want coffee. You can just say it out loud—while standing in the middle of your apartment—and have it. In 30 minutes or so. If you own a smart speaker, of course. And if you live in the US or in China.
While some brands give you the opportunity to do away with talking to anybody when placing your order, others want you to do away with screens, clicks and taps. They want you to talk to robots—at least at home.
In 2019, Starbucks launched voice ordering in China through Alibaba's smart speaker, Tmall Genie. The coffee brand is not alone in its efforts to spread the adoption of this new technology. Domino's has been accepting orders in the US through Amazon's Alexa since 2016. Panera Bread—since 2017.
For now, even tech-savvy brands are focusing on re-ordering options. You choose your favorite meal and then order it again and again via voice commands to your speaker or smartphone. But there is no question that soon machines will be able to engage in full-scale conversations about the menu and accept even the most complicated orders.
A number of startups—Bensen AI, Clinc, Inc., and Valyant AI among the most visible—are already moving in this direction, not to mention Google, Amazon and Apple who are constantly improving their voice assistants capabilities.
Technology makes customization in fast food painless
The re-ordering function is also a small but telling example of a wider trend: personalization. With the help of new tech, restaurants and fast food parlors can store data about their guests' preferences and quickly deliver meals that perfectly fit the needs of each customer.
Most of this magic, of course, happens on phones and on the web. You can repeat your previous order in just two taps or get a customized, enticing deal based on your order history.
Smart interfaces can also mitigate the pain of having to choose from dozens of options. Since we at Dodo introduced a new interface for customizing half-and-half pizzas, this type of pizza has become one of our best-sellers. By the way, launching a section in the app with personalized deals is one of our primary projects for 2020.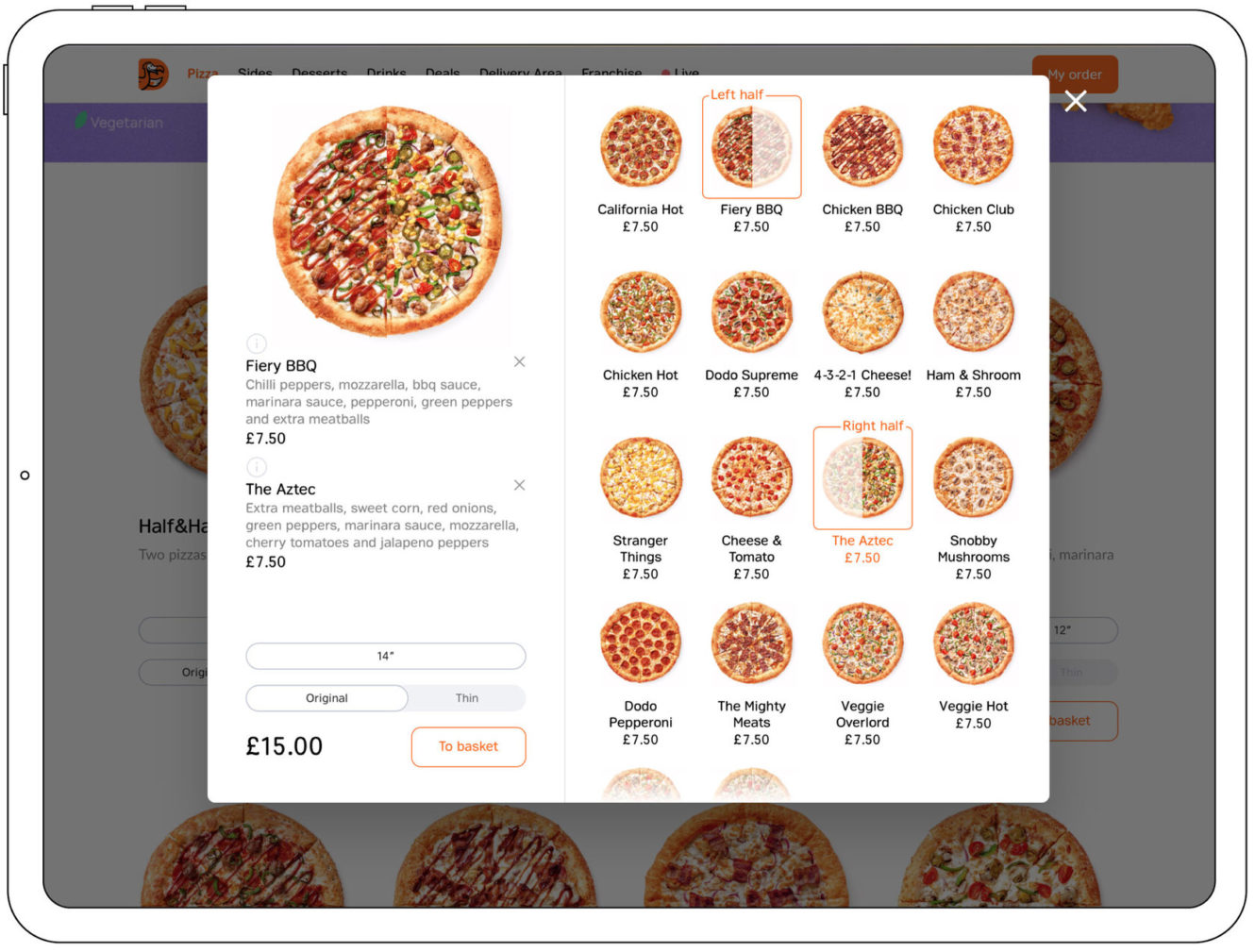 Half-and-half pizza interface on the Dodo website
And there is more to it.
Identifying dine-in customers has always been a challenge in the fast food business. While modern AI can easily recognize faces, the law and public are dead-against it. That's probably why, in 2019, McDonald's bought Dynamic Yield, an AI-powered personalization platform.
Dynamic Yield's technology is especially helpful for drive-thrus: it can identify license plate numbers (which, I guess, is okay for the public and the authorities), match it with placed orders and store these data for future analysis and personalization. Other fast food brands in the US, where drive-thrus are hugely popular, are investing in similar solutions—sure proof that this is a promising area for development.
Technology changes how orders are processed
This is how things have been done in the restaurant industry for decades: you take an order, print a receipt and stick it to the wall or the shelf next to others while your kitchen crew processes them one by one.
Digitalization can make a real difference here. A tablet in the kitchen can instantly show you all the orders coming from customers through your sales channels. It also can track orders as they go through different stages of your workflow—if you use a simple order tracking system (basically, you check-in on the system when you start making a meal and press the button again when you're finished).
Reducing chaos isn't even the main advantage of this system. Digitalization enables restaurants to collect actionable data—for example, about workload and speed at every given hour (which is crucial for forecasting and scheduling).
We at Dodo can also measure how long pizzas rest on the shelf before they are picked up by a delivery driver. This real-time metric is super useful because it shows how efficient our delivery operations are.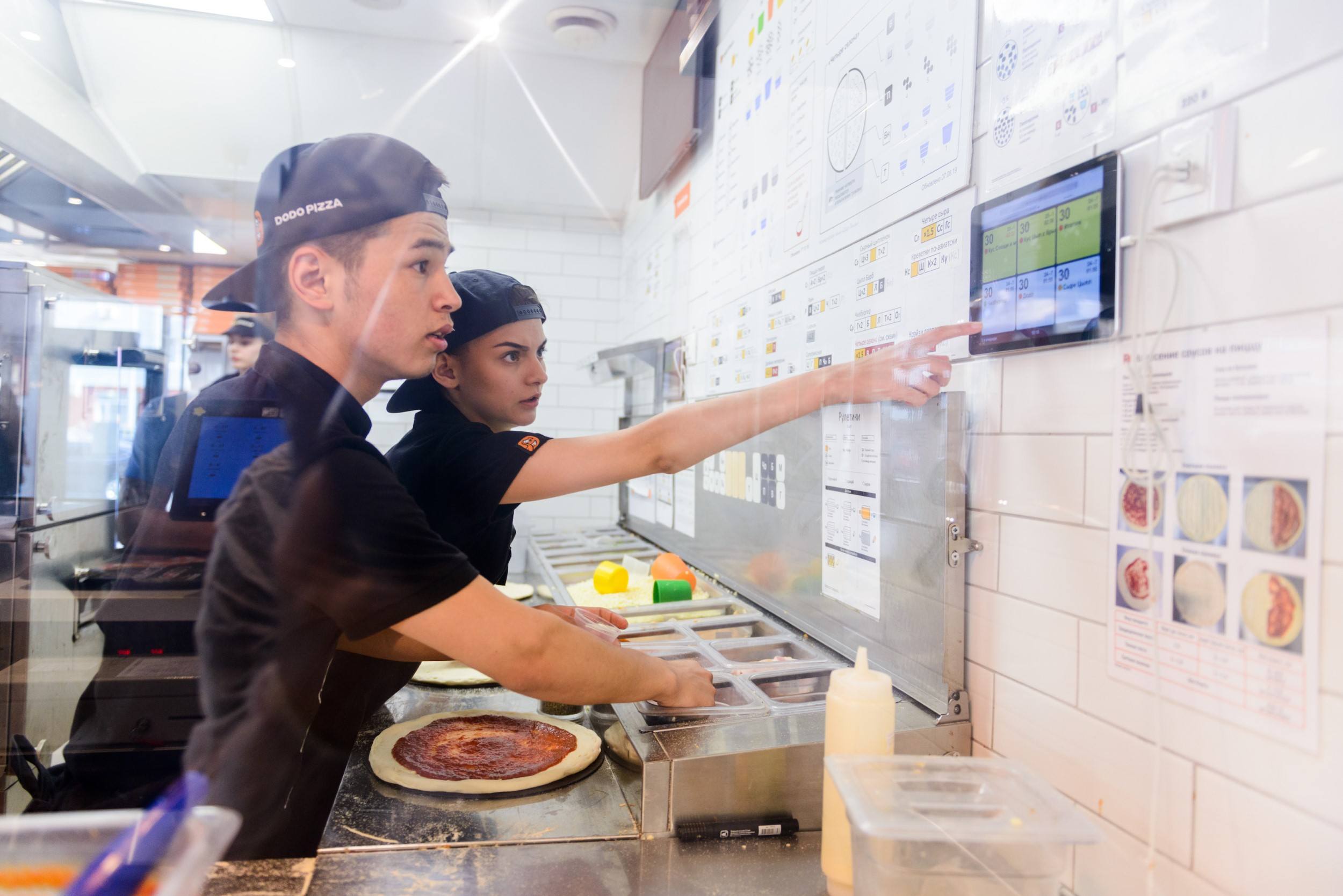 Dodo's order tracking in use
Technology enables a next-level takeaway experience
In QSR everyone's eyes are on delivery but I'm pinning my hopes for a better future on takeaway. Have you noticed how drastically our dining experience has improved since brands started to follow the mobile-first approach in this area?
You can now place an order on your phone and have the meal ready by the time you arrive at the restaurant. A separate line for pick-ups ensures you won't even have to wait that long to grab it. Panera Bread has excelled in this field.
The latest developments make this area even more exciting: various companies are testing self-service solutions that will allow customers to grab their orders by themselves from an automated cubby.
Starbucks has its "Starbucks Now" project. Pizza Hut is testing the same approach in Hollywood—in partnership with Brightloom. Finally, Little Caesers has Pizza Portals (self-service pick-up stations).
This new approach is not only quite appealing for customers but also makes sense business-wise. While delivery operations increase costs and make it harder for a restaurant to turn a profit, automated pick-up stations allow you to cut costs and make your operations more efficient.
Technology turns everyone into chefs
If you think about it, many trendy tech-enabled business models could have emerged with no advancements in tech. Take the meal kit market, for example.
The idea is as follows: if you're lazy, you don't cook—you order something for delivery, but if you're not quite so lazy, you subscribe to a meal kit service, like BlueApron or HelloFresh.
Cooking it is—but without the usual hassle. You're provided with the right amount of ingredients and clear-cut cooking instructions. Everyone can cook!
Technically, you don't need an app or even a website for this to work. A printed catalog would do the job. But for some reason, it was only with the rise of delivery companies and online subscription services that people started to think that meal kits might turn into a thing.
But have they? There are big players in this game, and experts predict that the global meal kit market will be worth $9B by 2025. Yet it's still unclear if this business model is sustainable.
Many meal kit brands are struggling with customer retention and remain unprofitable. That's why some of them have started to sell their kits in grocery stores or to seek other partnerships.
Technology improves our lunches
Tech has also changed the way we eat at offices. Even if you work 24/7, it's no longer an excuse for your unhealthy diet. Microwaved rice and chicken? Dull food from the only canteen in the building? Obsolete!
Blame (or praise?) the rise of delivery, again. Of course, you can always order a meal through UberEats or Deliveroo. But it will be too pricey. There are better options—brands that provide office catering services, such as Feedr or ezCater. With corporate contracts, they make healthy and quality office food affordable.
There are dozens of new companies with different models in this field. Most serve as brokers. Some, like EAT Club, make the meals themselves, while Platterz will set up a pop-up station at your office and prepare food on-site.
The snack segment is also being challenged by new brands, such as Oh my green and SnackNation. They offer healthier snacks on a subscription basis. Byte Foods's fridges use RFID tags to detect what you've taken and how much you should pay. And Hot Pantry delivers pre-made meals that can be cooked in its AI-powered Level oven.
Technology helps us fight waste in fast food
We throw out 30–40% of the food we produce. Bizarre, right? And you might say, well, pal, what can we do? It's been like this for ages. But with the help of modern technology, we can do a lot—at least in the fast food and restaurant industry.
We can sell excess food at a reduced price at the end of the day. There are online marketplaces for that (look for Karma or Too Good To Go, for example).
We can analyze our workflow and improve it with the help of AI. Install a connected weighing scale underneath your trash. Put your trash bin on a connected scale. Place a camera above it. Employ computer vision to track what gets thrown out and analyze the data. That's what companies like Winnow and Leanpath can do for you.
Finally, we can make much more accurate forecasts — by ourselves or with the help of Fourth, Tenzo and other startups. And this is big: if you can accurately predict demand, you can buy just the right amount of food (which leads to zero waste).
And it's now possible to produce forecasts based on many complex factors (day of the week, weather, city events, paydays, etc.)—as long as you feed the software the data. That's why digitalizing all your processes is so important. That's why we at Dodo invest so much in building Dodo IS, our own IT solution for managing a pizza chain.
Don't waste food, people.