The global pizza delivery market has been dominated for decades by American brands launched in the 60s and 70s. We are here to change that. There is a new kid on the block.
In 2011, Fyodor Ovchinnikov launched Dodo Pizza with less than $50,000 in savings and loans. Without any backing from venture capitalists or major financial groups, the Dodo team grew the brand from one tiny pizza delivery in a windowless basement to hundreds of pizza stores in less than 10 years.
Done in <10 years
 company-owned and franchised units in  countries on 3 continents (okay, here is the full list in case you need it: Belarus, Estonia, Germany, Kazakhstan, Kyrgyzstan, Lithuania, Nigeria, Poland, Romania, Russia, Slovenia, the UK, the US, Uzbekistan);
$313m in system sales in 2019 (46% growth from 2018 — not bad for a brand of this size);
Number 3 among the fastest-growing restaurant brands in Europe (2019);
Number 84 in Europe's top 100 foodservice brands ranking (2019);
Dominant market leader in Russia, our home market (as big as three closest competitors — Domino's, Papa John's, and Pizza Hut — combined);
Also the market leader in Kazakhstan;
To our own surprise, Dodo Pizza was recognized as the most innovative foodservice brand at Global Restaurant Leadership Conference in Singapore in 2019;
"Dodo has developed into one of the industry's first truly digital-first concepts, with technology figuring into all aspects of operations." Global Restaurant Leadership Conference
But how?
How did the Dodo team pull all that off — in less than a decade? Well, we probably got a bit lucky. And on top of that…
From day one, the company invested in its

in-house team of coders

and has built a suite of powerful digital products — for customers and partners (aka Dodo IS);
Dodo Pizza opted out of working with delivery aggregators and has managed to maintain direct contact with its customers;
Dodo's dine-in areas, much more developed for a delivery-focused brand, allowed us to adjust our business model and adapt to different local markets;
Fostering a culture based on the win-win approach and the principle of radical transparency (instead of just leveraging our power over partners and suppliers), Dodo Pizza was successful in recruiting ambitious and passionate entrepreneurs from all over the world;
Digitalization of the entire business made it possible to control quality across the board despite the challenges of a fast-paced growth (not like there is nothing to improve here).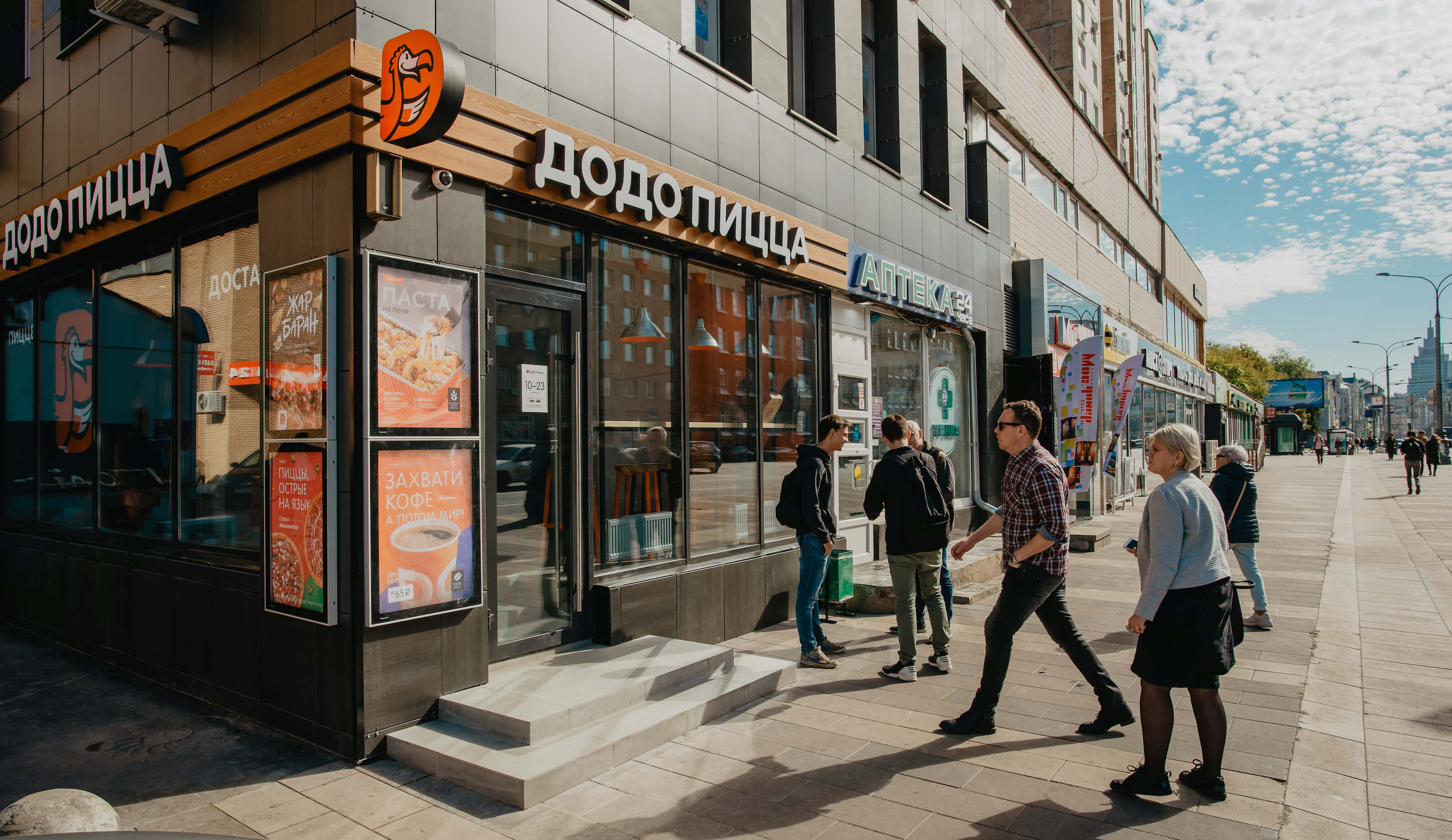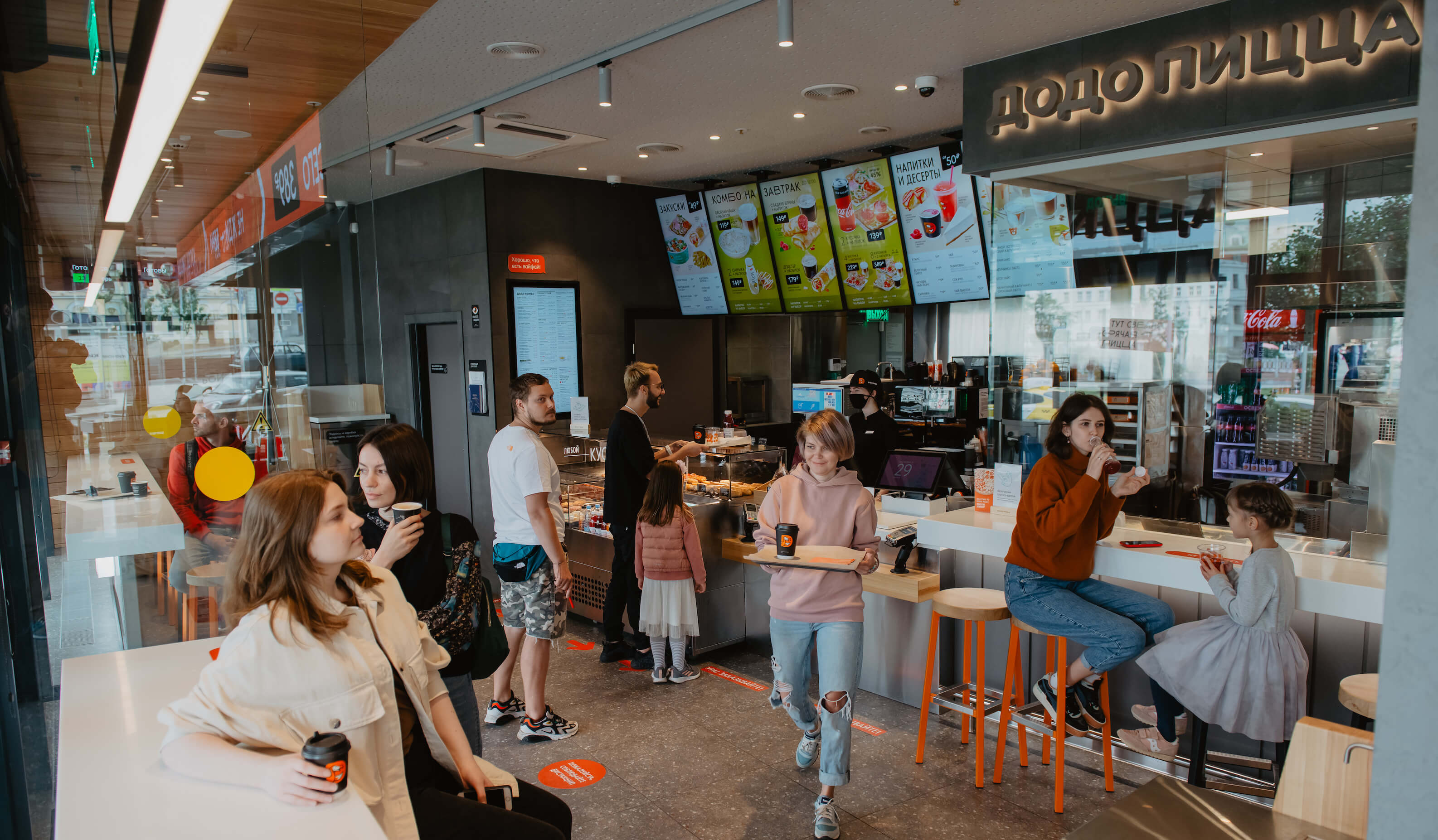 Let's up the ante
In 2019, 89% of our sales were generated in Russia. That's a lot of money. And instead of lining our pockets with cash, we're now using this highly profitable business in our home market to finance Dodo's global growth. 
For our quite young and ambitious team, being just some local champion won't cut it. We want to raise the bar in every part of the pizza business — with product, design, digital experience, service, work culture, and franchising — across the globe.
Our units in Eastern Europe — Lithuania, Estonia, Belarus, and Slovenia — have already proved to be highly successful. In 2019, Dodo had a very promising start in Nigeria. And going forward, we intend to double down on the UK where we're launching company-owned units. 
Also in the works: Germany, Vietnam, Slovakia, Finland, and some other markets.These countries we're going to develop in partnerships with our franchisees. Wait a minute, cross off Germany and Vietnam — the Dodo team has already launched our first units in both.
And of course, we're using our technology, experience, and financial resources to reach beyond pizza and develop new foodservice concepts. More about it here.
What's in it for you
If you want to bring Dodo Pizza to your region as our master franchisee or just launch one pizza store, fill out this form — and we'll get back to you.
If you're looking for investment opportunities, come back a bit later — we're working on a section for investors.
If you'd like to join our team, check out Dodo's page on LinkedIn.
If you're just fooling around, go to our blog — or follow Fyodor Ovchinnikov, the founder, on LinkedIn. He is quite a blogger — and shares a lot of business insights.