"You guys go from strength to strength. Such a great year. Proud of you all. So much progress since I was last with you in Moscow. Ian." Ian is Ian Toal, CEO at C3 Arabia — the Middle East's leading omnichannel food tech platform, and this was his feedback on our LinkedIn post with Dodo's high points of 2021.
We always appreciate hearing these kinds of comments. Not that it feeds our ego, but it makes it clear that we're moving in the right way. Thanks, Ian!
2021 was a blast. Here's what we managed to achieve over the past year.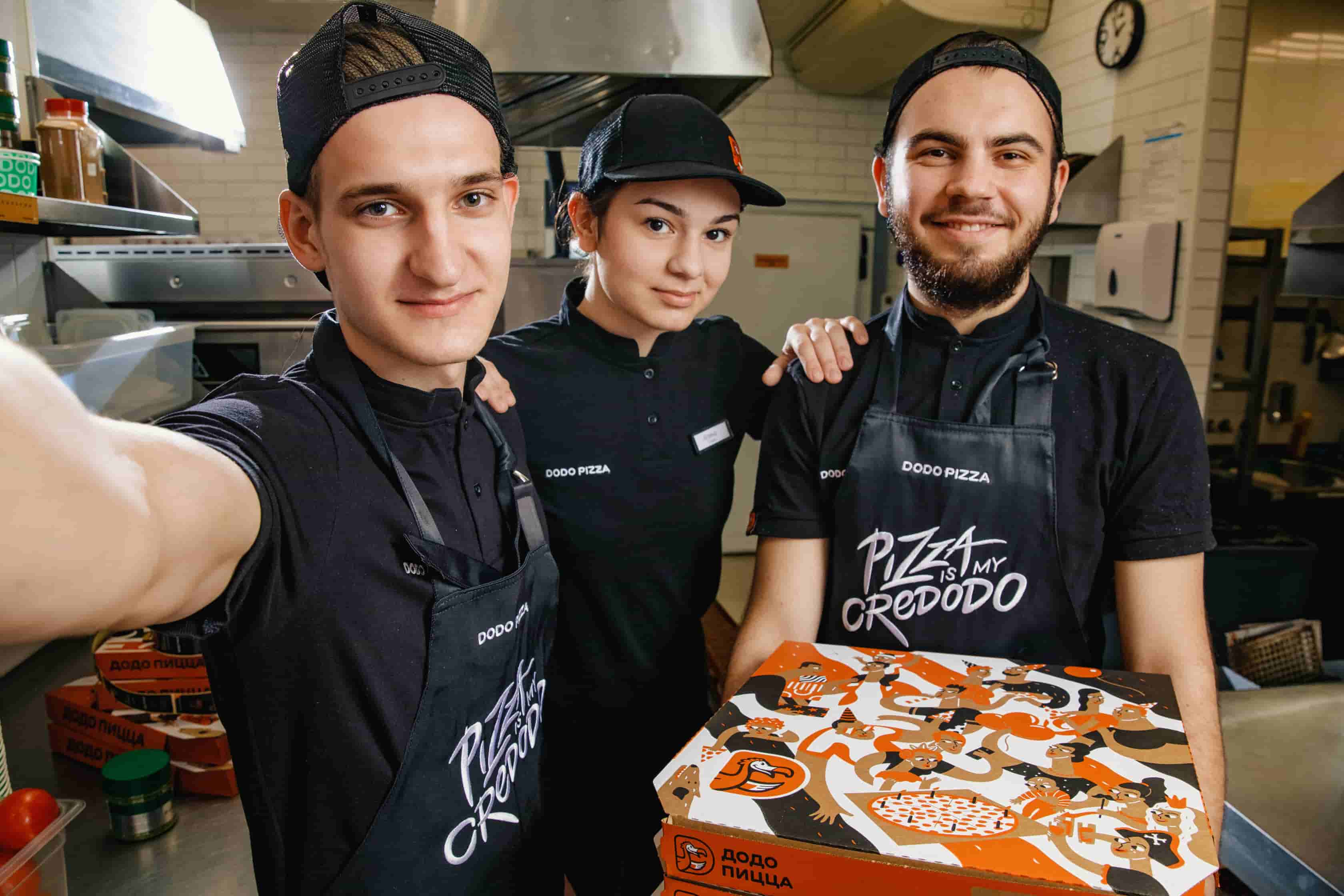 $546 million in sales, a 56% increase over 2020
At the beginning of 2021, our boldest forecast was $445 million. However, in December our system sales hit the half a billion dollars mark, and grew to $546 million by year end. In the US, this would place us among the top 10 pizza brands with our current results. For example, MOD Pizza reported $461 system sales in 2020.
771 units, +92 net new
The Dodo Pizza store count reached the 765 mark. Despite the pandemic we launched 102 new pizzerias (closed 14 for good), as well as 4 new Drinkit coffee shops — 1 franchised in Samara and 3 company-owned in Moscow. Another 5 coffee shops are under construction. Overall, Dodo Brands grew by 92 units and ended the year with 771 outlets in 15 countries.
+2 new markets
We now operate in 15 countries: in 2021 we brought Dodo Pizza to Poland and Vietnam. Both of our franchisees are focused on rapid development and they've each launched 2 stores within their first year.
Becoming wanted: got 1.5K+ franchise requests
Last year, Dodo Pizza received 450 requests from 42 countries for our master franchise. We found a partner in Tajikistan, and will soon launch in Dushanbe. We're also negotiating entry into new markets in Africa, Asia, the Middle East and Central Asia. In Russia, Drinkit got 868 franchise requests, and Doner 42 — as many as 400. And these two concepts haven't even launched full-scale franchising!
Digital channels: 72% of earnings
Our own digital sales channels (apps and website) brought us 72% of all revenue in Russia, placing us firmly in the e-commerce category in our home market. Launching app ordering for dine-in helped push this number a lot. We also launched a single Dodo Pizza mobile app in all countries. The app already brings our franchisees 52% of all orders for delivery.
Delivery: 65% of total sales
In 2021, our delivery sales increased by 47% — to $333 million. After the mad growth of delivery in the first year of the pandemic, we expected modest results in 2021, but it has grown quite well. The share of total sales made via delivery was 65%. 26 million orders were placed for delivery which is 33% year-over-year growth.
Russia, Belarus, and Kazakhstan's share: 86%
Dodo Pizza's system sales in Eurasia (Russia, Belarus, and Kazakhstan) increased by 56% — to 38 billion rubles ($481m). This market brought us 86% of all system sales in 2021. We served more than 9 million unique customers (56.2 million orders in total).
Dodo Pizza in Leamington: £570K in sales
A year ago, we launched our first company-owned store in the UK with a new product — roman-style pizza. In 2021, Dodo Pizza came second among Leamington Spa pizza shops in terms of revenue with £570K in annual sales. 9,000 of Leamington's 50,000 residents are already our customers. Dodo's next city in the UK will be Cheltenham.
Dodo IS: 450 orders per minute
We now update Dodo IS, our own IT platform, 8 times per day — with continuous new features and the rollout of bug fixes. In September, we set a new internal record of 450 orders processed per minute by Dodo IS. Our IT team grew by 50% and now consists of 221 software developers, engineers, data scientists, and digital designers.
Drinkit & Doner 42: boosted mobile app awareness
In 2021, our digital-first coffee and doner kebab startups taught customers to use the mobile apps that are the core of their business: the share of orders made via the Drinkit app across all 5 coffee shops is 50.5%. And more than 40% of orders in one high footfall Doner 42 outlet are made via the app. This is an impressive result for brands that are not yet well-known.
Sustainability: 6 tons of timber saved, 14 tons of plastic recycled
Since becoming a big business we've started to think about our impact on the world. In 2021, we launched a sustainable development program. We saved 6 tons of wood by getting rid of the Dodo set (napkins, toothpicks, etc). Handed over 14 tons of plastic in the form of broken dough trays for recycling. And eliminated 62 km of plastic by reducing the size of the trays in stores across Russia.