Our annual partners' meetup is the major event in the Dodo universe. Yearly results, breaking news and strategic plans are all announced from one central stage. The first meetup took place in 2013 when there were only 9 stores in the chain.
Our task was to introduce all partners to each other, and lay out plans for the next year. To escape any distractions, we decided to hold the meetup in the forest — typical Russian style. Since then, the event has become traditional. However, we had to move from the forest to a high-tech venue. No regrets though. Here are 10 key unveilings of the Ninth Dodo Meetup.
Doubled our rate of growth
System sales for the 12 months to July 2021 amounted to 32,6 billion rubles ($440 million) — a terrific growth rate of +48%. Just to compare, growth for the previous non-covid year was +26%. We've expanded despite the pandemic: +96 new stores in Russia and abroad. Nassim Taleb's "black swan" turned out to be white for us.
The most popular pizza brand in Russia
Dodo Pizza's top-of-mind awareness is 47% this year (last year, it was 35%). We've interviewed more than 1,500 respondents throughout Russia. When asked about pizza delivery brands, almost half of them named Dodo Pizza right away.
Franchisees as company shareholders
Dodo Brands is aiming to go public in early 2024. We'll reserve a large pool of shares and give our franchisee partners the opportunity to participate in the initial placement of shares at the placement price before the official auction is launched.
Doner 42: 600 applications from potential franchisees
Doner 42's managing director Magomed Kostoev was contacted day and night after the call for applications. Selecting the first 10 test partners with whom we'll bring the product and business model to perfection within the year was a real challenge. Anyway, we did it and will work hard so that the franchise will be available to everyone next year.
Drinkit: Target of 20 company stores in a year
We made a decision not to develop the Drinkit franchise for the next year. Coffee is a very delicate product, a lot depends on the barista's skills and company culture, and we want to build this culture first. In the coming year, we'll be opening 20 company coffee shops in Moscow, creating a training center, a strong team, and a community of coffee lovers.
Digital-first: AI for quality assessment in Drinkit
We are going to digitize all the processes in the coffee shop so that we can track an order at each specific phase: from supply metrics to coffee machine settings for the certain order. We are now close to launching a prototype that will allow our system to take pictures of each drink that has been served (even count its weight). If something goes wrong, we'll identify exactly where the error occurred.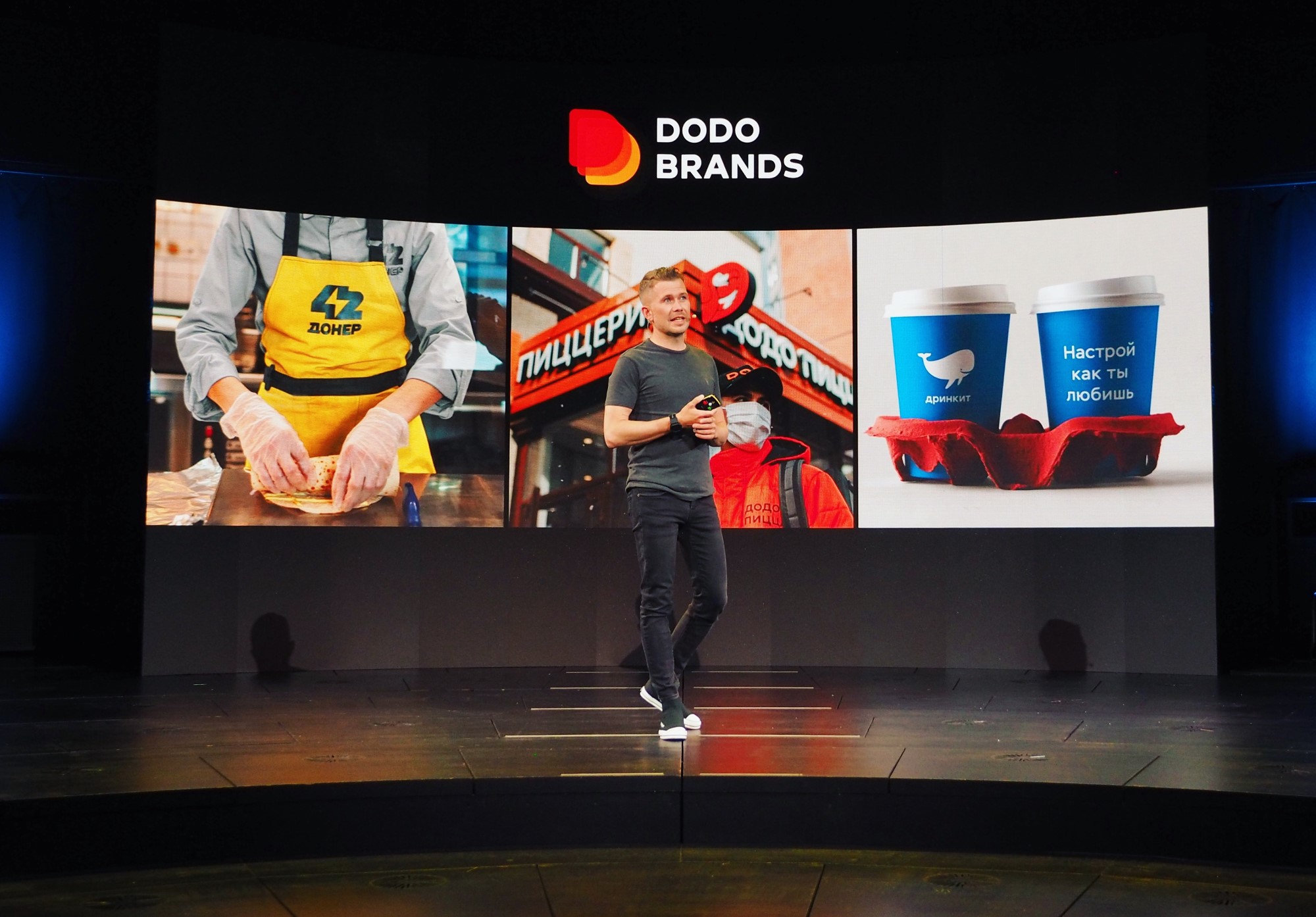 Fyodor Ovchinnikov, Dodo Pizza founder and CEO
Proceeding to personalized marketing
In September, we'll launch a loyalty program with personalized scenarios to support newbies and retain existing customers. They will receive cashback from purchases in the form of dodocoins, which they can spend in our app marketplace. Additional coins can be obtained for completing missions — time-limited personalized quests. Switching to personalized marketing will give us +5% additional revenue in 2022 ($40,5K per store on average).
From 150 to 250 developers in a year
People who could work at Google and Facebook choose Dodo Brands. Our tech team is incredible but it's infinitely smaller than our ambitions. We wanted to grow our team to 250 in a few years but technologies are developing by leaps and bounds, and we need to keep up. We've decided to double the size of our tech team in the coming year, and it's going to be a tough task.
$1.3m for nationwide promo of Dodo's HR brand
People are the main focus of our strategy. Next year, we will continue to invest in our HR brand. $1.3 million is an impressive figure. Actually, very few companies make a permanent investment in their HR brand (in Russia only McDonald's does).
Estimated $500+ million in system sales this year
According to conservative financial projections, Dodo's total revenue should amount to $500+ million in 2021 — quite a noticeable figure among all global QSR chains. At this pace, we'll reach $1 billion in a couple of years.
Watch the entire event with translation in English.