Some people simply can't wrap their head around this: why would a foodservice franchise go through so much trouble to build its own tech platform when there is no shortage of ready-made solutions on the market?
Dozens of well-funded startups are tackling the food tech trend nowadays. So when a QSR chain needs to up its tech game, it can now simply buy and adapt a solution from a third-party (as some pretty established QSR chains do).
On the other hand, building a team of free-spirited developers inside a traditional restaurant company can be a real struggle. Especially when you are relatively small and forced to finance your endeavors via crowdfunding.
Yet we at Dodo Brands did just that.
Over eight years, our young company invested millions of dollars in Dodo IS, its proprietary cloud-based ERP system, which covers almost every part of our business (from powering our mobile app, website and contact center to providing tools for kitchen workflow management and sales analytics).
And it wasn't a cake walk for us. Not once we almost ran out of money. A couple of times we couldn't manage our growth properly and experienced blackouts across the chain that lead to painful losses in sales.
Yet we don't regret any dollar invested in Dodo IS. And here is why:
Only tech-driven chains will survive
"Software is eating the world," proclaimed Marc Andreessen in 2011—just a few months after Dodo Pizza, our first brand, was established. "More and more major businesses and industries are being run on software and delivered as online services." It turned out to be a prophetic observation.
Literally every industry is now being disrupted by the Internet and mobile technology—and no exception is the quick service restaurant business with its food ordering and delivery platforms, self-service kiosks, and even robots making pizzas.
It feels like every QSR chain that means to stay in business in the long run will have to turn itself into a software company eventually.
Tech can't be just an add-on to your management system
Many legacy brands struggle with digital transformation because they treat it as a simple add-on to their management systems. For them, tech becomes just one more story put on top of the existing building.
We believe that the whole management system should be re-built from the ground up with technology in mind. Geeks must have the power to change the way the business is managed.
You can't outsource the core of your business
Like Marc Andreessen, we believe that software will be crucial to any business's future success. Bringing the development in house won't be just an option—it'll be a must. You can't outsource the core of your business.
When a company has control over its tech platform, it can define its own future. We at Dodo know our business and its needs better than any food tech startup. Since our developers go to "gemba" regularly, we understand how Dodo can be improved with the right tech.
With Dodo IS, we can run experiments, implement any feature we deem worthy, adapt our strategy on the go, and acquire knowledge and skills that are essential for survival in the digital world.
One tailor-made system beats a tangle of universal solutions
Buying tech from a third-party might look like a logical option for a traditional restaurant company that lacks skills in software development, but the simplicity of this approach is often illusive.
Usually, every food tech startup covers only a part of the workflow. It might be, for example, mobile ordering or stock management. So a restaurant company will need a few of those solutions. And they will have to be integrated with each other and be adapted to the needs of the business.
Compromises are inevitable. No matter how developed each solution might be, in the end, the whole network won't be as effective as one integrated system designed from scratch with only one particular company in mind.
Like Gmail, Dodo IS is made as a cutting-edge web service
When you build your own thing, you are free with your choices in terms of the concept, technical decisions, and overall architecture of the system.
As far back as 2011, Dodo Brands founder Fyodor Ovchinnikov made a bold bet: inspired by projects like Gmail and Google Docs, he decided to build his software for managing the Dodo chain (back then, it was just Dodo Pizza) as a web service. You might also call it a SaaS solution, to some extent. As far as he knew, nobody had ever done anything like that before.
In 2011, many people doubted if it was the right choice. Over the years, the web services became ubiquitous (and even an entire new web-based OS arrived). The bet paid off tenfold.
Web services minimize the headaches typically associated with setting up a complex IT system for enterprises. To get started, all a Dodo franchisee needs to do is log in to the system from any device that has a modern web browser.
Web service allows us to easily integrate different types of devices on one network. Orders are placed on our customers' smartphones or on the cash desks. Our kitchen crews see these orders on iPads installed on the line, and our managers work on their shift schedules on their laptops. Even menus are managed in the cloud and displayed on TV boards.
Web service shows all the data in real time which allows our management to make timely decisions, be it a general manager in a given pizza shop or the CEO of the entire chain.
The whole system can be upgraded across the chain of hundreds of units in just a few minutes—and its users won't even notice it until they come across a new cool feature in Dodo IS.
Order tracking service is at the core of Dodo IS
We get orders through our mobile app, website, contact center, or right at the pizzerias, coffee shops, or doner kebab outlets. All the orders immediately show up on iPads installed in our kitchens. The crew checks in the orders in the system to mark the beginning of every stage of the process: dough preparation, toppings, oven, packing, delivery.
This simple solution enables a whole bunch of pretty useful services. Here are a few of them:
Our customers can track their order on our website. We have a webcam in every kitchen where local laws allow that, and the tracking makes it possible to know when the crew begins to make your order.
We measure the preparation time of every single pizza and compare it against the desired number. The result is displayed on a separate screen in the kitchen. This helps us motivate the kitchen crew and adds some fun to the process.
Shift managers can see in the system how much time pizzas spend on the shelf waiting for delivery. If it's too long, they can take action and call in more drivers. Day/month stats provide management with accurate assessment of how effectively the delivery has been planned.
Of course, we store all the data and make forecasts about the workload of the kitchen. The system warns the shift manager if she plans too many or too few people to work in the kitchen for a certain hour which helps the unit reach its optimal productivity.
Our smart order controller flexibly changes the sequence of orders on the line, taking into account our target waiting limits for different channels of sales. Sometimes, a delivery order can wait a while because the customers are expecting it in half an hour. In this case, the algorithm changes the sequence and makes a new dine-in order a priority.
Some cool features of Dodo IS
Dodo IS powers all of our brands in the Dodo family: Dodo Pizza, Drinkit, and Doner 42. And it consists of so many parts: a mobile app, a website, a contact center solution, a cash desk, tracking and motivation screens, shift scheduling, day and month overview, inventory management, dynamic menu and promotions, loyalty program, sales reports… Basically, every aspect of our core business is covered, though the development is ongoing. It's hard to elaborate on everything, but let's highlight a few more cool features Dodo IS already has to offer.
Since every order is processed by Dodo IS, we see our sales in real time and are able to broadcast them online through APIs—for any particular pizzeria or across the chain. Our investors love this feature! (See also a post about our commitment to transparency, where we explain why we share our essential financial data with the public.)
If a customer in our home market calls Dodo Pizza, she can dial the same number in any city. The call is transferred to an available team member working remotely from her home office, which could be located thousands miles away. Our CRM system provides the operator with all the information that is needed to process the order which immediately appears on a screen in the pizza shop closest to the client. This tech-driven solution allowed us to bring the efficiency of our contact center to a new level, which couldn't have been done even ten years ago.
Having a skilled team of software engineers and designers on board allowed us to make a mobile app with an excellent UI—a real cut above the market. This app also leverages the advantages of deep integration with Dodo IS. If an order is placed on a smartphone, we send a push notification asking customers to give feedback afterwards. Around a quarter of them seize this opportunity and give their pizzas a mark from 1 to 5 points. If it's not a five, we reach out to rectify our mistakes. Every pizzeria also gets a ranking based on this feedback.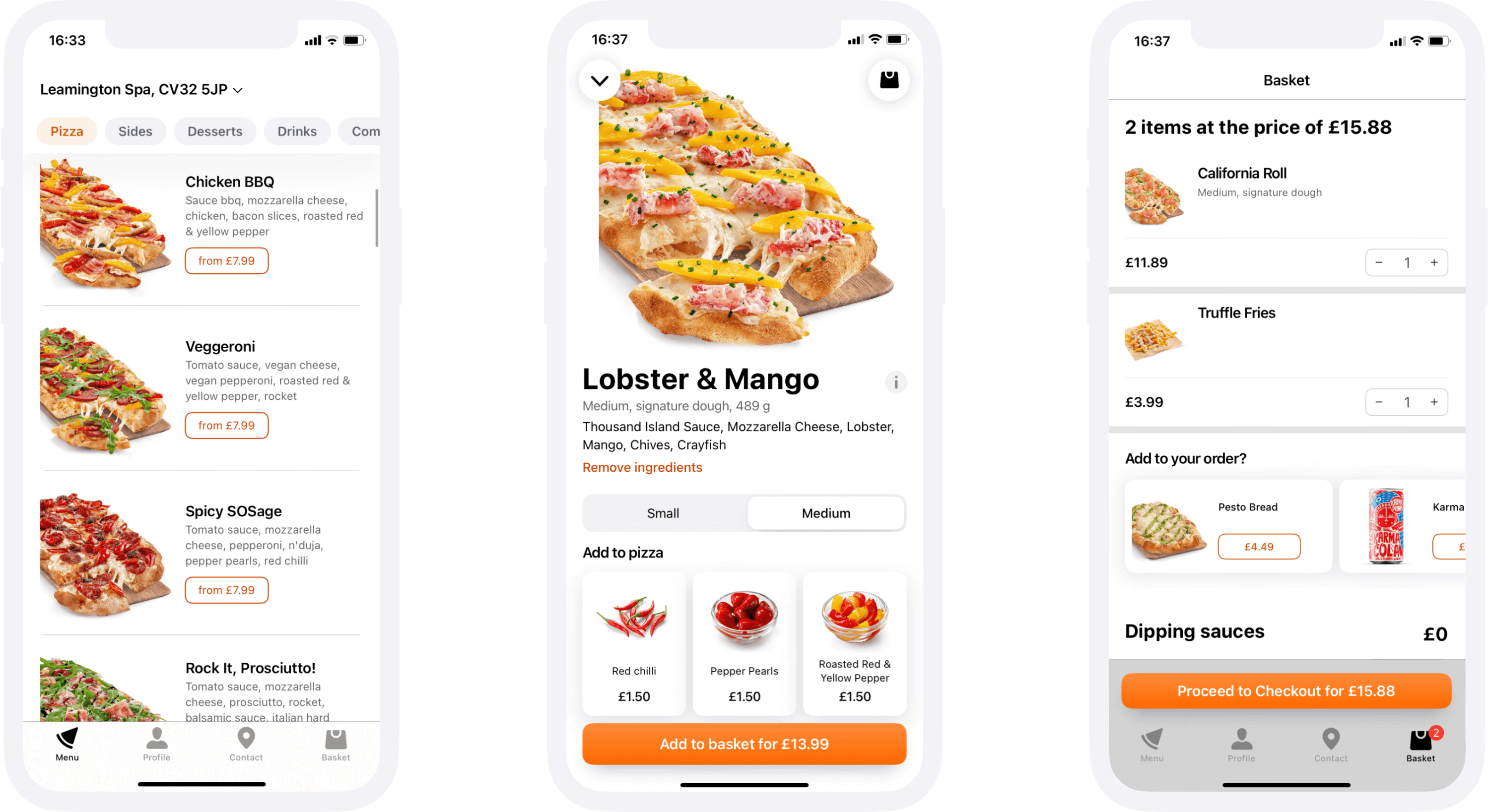 Dodo IS: continuous improvement
We have so many ideas for new features that can help our partners manage their units even more efficiently, ensure a great product across the chain, and build a healthy culture in the company… It's our curse and our blessing. Dodo's current backlog is gargantuan. And we haven't even tapped the potential that the development of the Internet of things holds, not to mention voice assistants, AI or robotic kitchen equipment.
Possibilities are endless. That's why we continue to invest in Dodo IS and grow our current IT team of 120+ software engineers, analysts, and product managers.