Dodo Brands: tech-driven foodservice concepts
All as alive as ever
Coders & Cooks Ltd. We might've chosen this name — instead of Dodo Brands. After all, we're a team of software developers and foodservice professionals who joined forces to reimagine the time-tested (but somewhat old-fashioned) franchising business.
Three key elements define our approach:
We develop vibrant foodservice concepts with a balanced mix of dine-in and delivery (currently: Dodo Pizza, Drinkit, and Doner 42);
We support our brands with cloud-based tech solutions for customers and partners — built in-house by our team of 120+ software engineers and analytics (aka Dodo IS);
We foster a fair franchising system based on the principle of radical transparency (and when I say fair and radical, I mean it).
We got noticed
Fyodor Ovchinnikov, the founder of Dodo Brands, received Ernst & Young's 2018 "Entrepreneur of the Year Award" in the "restaurant business" category.
In 2019, our main brand, Dodo Pizza, received the GRLC Distinction Award for Innovation at the Global Restaurant Leadership Conference in Singapore.
"Dodo has developed into one of the industry's first truly digital-first concepts, with technology figuring into all aspects of operations"
Global Restaurant Leadership Conference
Our amazing brands

Good old pizza done well — for delivery and dine-in. Number 3 among the fastest-growing restaurant brands in Europe (2019). Number 84 in Europe's top 100 foodservice brands ranking (2019). Dominant market leader in Russia and Kazakhstan now scaling globally — in the UK, China, and across Europe. Specialty coffee with subscription and painless customization in the app — a chain of digital-first coffee shops for the modern city. First unit launched in Moscow in August 2020.

The doner kebab you can trust: fresh and safe. A beloved product reimagined for everyone. First unit to be launched in 2020.
Kirill, Alex — and Jobs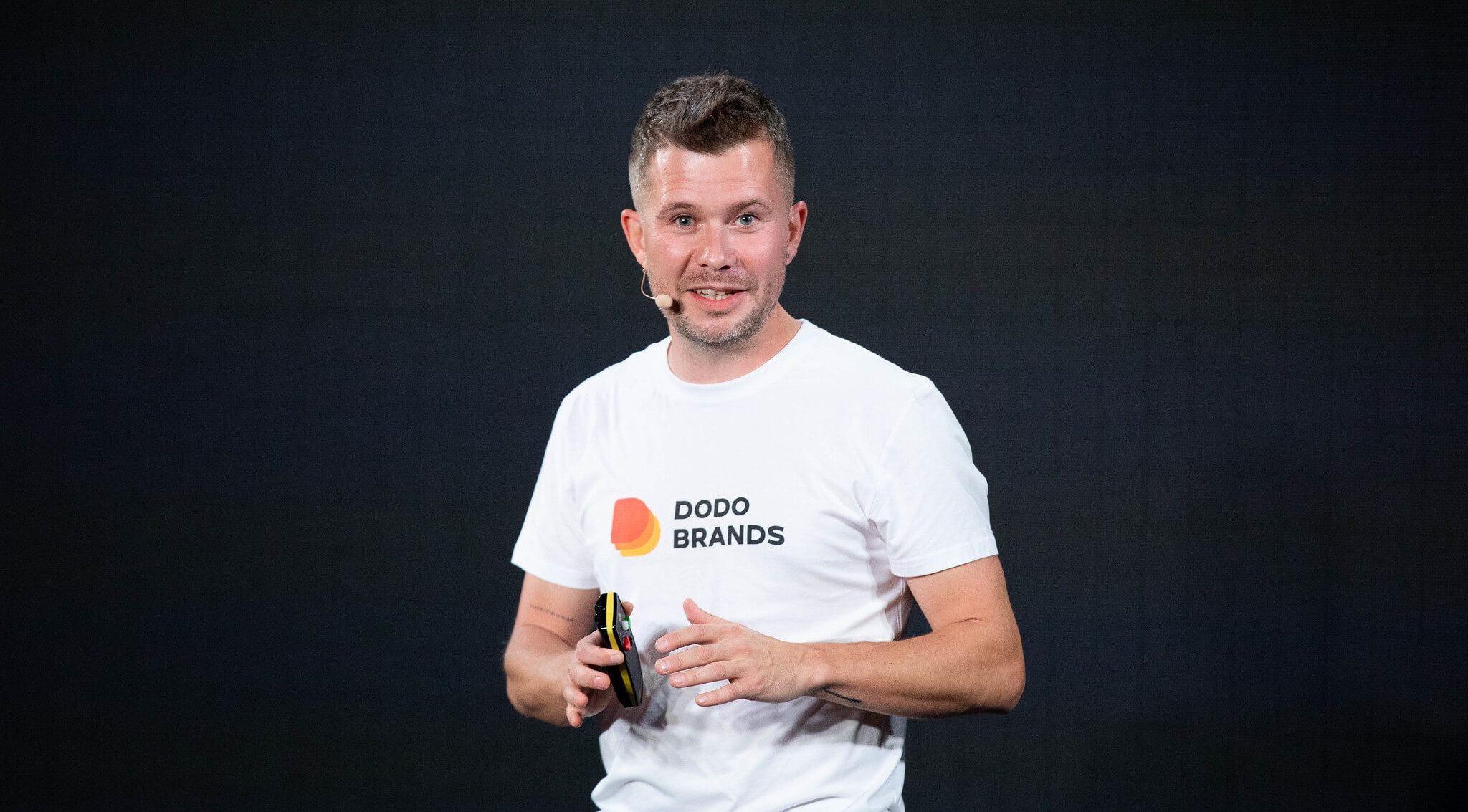 Fyodor Ovchinnikov, Dodo Brands founder and CEO
Archeologist by trade, pure entrepreneur at heart. Fyodor grew up in Syktyvkar, Russia where in 2006 he launched his first business, a chain of bookstores (failed), followed by Dodo Pizza, a digital-first pizza brand, in 2011 (failed not). PMQ Pizza Magazine later named him "the Steve Jobs of pizza."
Kirill Vyrypaev, CFO and head of EMEA
A graduate of the Higher School of Economics, Kirill Vyrypaev joined Merrill Lynch in 2010 and in six years navigated a career path from intern to associate before assuming the position of CFO at Dodo Pizza in 2016. Contrary to the notion that financiers are too risk–averse to build new businesses, two years later he was heading up Dodo's European startups.
Alexander Andronov, CEO Dodo Engineering
For five years, Alexander Andronov worked as an application developer for Intel in its Nizhniy Novgorod office. In 2013, along with a team of fellow Intel coders, he launched SmartStepGroup — a firm that developed complex enterprise IT solutions. In 2017, all of its 11 team members joined Dodo. Two years later, Alexander became the head of the group's vast IT department.
Want to meet the rest of the crew? More bios coming soon
Show me your tech stack
I won't — boring! But I'll tell you this: Dodo IS, our proprietary tech platform, covers almostevery part of the foodservice business— from powering the mobile apps, websites, and contact centers, to providing tools for kitchen workflow management and sales analytics.
Dodo IS is deeply integrated with our brands's management systems;
It works as a web application, which makes it accessible from any browser and provides management with real-time data (and how cool is that?);
As the platform owners, we at Dodo Brands maintain full control over our tech solutions and can acquire knowledge and skills that are essential for survival in the digital world.
Openness: buzzword or true belief
Dodo Brands is different from any other franchise group in how it treats its customers and partners. Total transparency is the brand's foundation.
Most units in the group boast an open kitchen, and most kitchens in the chain are equipped with webcams (where local laws permit). The managing company broadcasts its weekly meetings on YouTube. It also publishes audited consolidated reports and monthly trading updates.
Dodo's CEO, Fyodor Ovchinnikov, constantly covers the latest company news and business insights on social media (you should follow — he's quite a blogger).
Where we come from
Our story begins in Syktyvkar, Russia where Fyodor Ovchinnikov launches his first Dodo Pizza delivery-only shop with less than $50,000 in savings and loans in 2011.
Building on the success of the first unit, Dodo Pizza starts to franchise its business in 2012.
In 2014, Dodo Pizza opens its first franchised unit outside Russia — in Brasov, Romania and also launches the world's first commercial pizza delivery by drone.
Dodo becomes the largest pizza chain in Russia in 2016.
The Dodo team decides to reach beyond pizza and develop new foodservice concepts in 2019.
In 2020, the holding company is rebranded as Dodo Brands. Two new concepts — Drinkit and Doner 42 — are launched.
Published: November 23, 2020